Investigating a 1912 Ross Cadet rifle, a mid-century Savage Model 29, a Winchester Model 1894 and an unusual Polish percussion revolver
Whether you have a question about antique guns, modern firearms, ammunition or reloading, expert Dave Anderson is here with the answer. Please send your detailed questions and applicable, high-resolution photos to editorial@outdoorcanada.ca. For recommended auction houses, go to www.outdoorcanada.ca/gunauctions.
I can't find any information on this gun (above). Maybe you have seen it before? Thanks!
SANDY GIBSON
LACHUTE, QUEBEC
Judging by the markings on the butt stock, this appears to be a 1912 Ross Cadet rifle. Ross delivered 6,000 of these rifles to the Canadian military between 1913 and 1916; most were later destroyed by the federal government. Your rifle has been marked twice, first in 1914 and again in 1917. The letters CC stand for Cadet Corp.
When the government expropriated the Ross factory in 1917, there were many unfinished and/or undelivered Cadet rifles on hand. They were later completed and sold as commercial sporting rifles. This was called a "clean-up run," and your rifle may have been included. Most of the rifles that still had to be finished were not marked. It may be that your rifle was already finished, marked and waiting to be delivered, or it had been returned for repair. This would explain why it has both 1914 and 1917 date markings. If that's the case, however, I don't know why they would add the CC marking again in 1917.
These rifles had a full-length, military-style stock when they were first made. The forearm on your rifle may have been shortened to a half-stock sporting pattern before leaving the Ross facility, or it may have been shortened by some later owner. Ross .22 rifles used a straight-pull design, which was much simpler than centrefire versions. They were well made, and seem to have been reliable and well respected. You'll see I've done some speculation on your rifle's history, as I know of no way to conclusively establish its history.

I have a .22 pump-action rifle (above) that belonged to my father. It's a Savage Model 29-A from the Savage Arms Corporation of Utica, New York. The serial number is 55348L. I'm hoping you can help me determine the rifle's age, history and possible value (not that I would ever sell it). Thank you so much for your time. I appreciate any information you can provide.
STEWART GRAHAM
FLIN FLON, MANITOBA
The Savage 29 was a popular, very well made .22 rifle. It was manufactured from 1929 to 1967. Models from before the Second World War had an octagon barrel and checkered pistol grip, while post-war models such as yours had a round barrel and plain pistol grip. I can't find detailed year-by-year production records, but the serial numbers reached 23500 by the year 1945. Based on its serial number, I estimate your rifle was therefore made around the mid-1950s. The demand for all types of sporting firearms was very high after the war and through the 1950s.
Currently, there is not a lot of collector interest in this model, though I think it is slowly growing. From what I can see in the photos, your rifle isn't rusted or pitted, but there is little remaining original finish on the receiver. Its value is probably in the range of $200 to $300. Any potential buyer would most likely be an old-timer like me who appreciates machined steel and walnut stocks, but there are fewer and fewer of us every year!

My grandfather purchased this gun (above) sometime in the 1950s. My uncle now has it, and we are curious as to what it may be worth. There's very little bluing left on it, but there's no rust. The rifling seems good. It likely hasn't been fired in 40 years. Thanks in advance for your response.
BRENT VALLBACKA
SUDBURY, ONTARIO
This Winchester 1894 was made around 1904 to 1906. Despite the lack of original finish, it may still be of interest to collectors. The half-round, half-octagon barrel would have been a special-order option. Plus, the rifle appears to be a takedown model. Both of those features add to collector appeal.
Even if you're not planning to sell the rifle at this time, I still suggest you get a factory letter from the Cody Firearms Museum detailing any information on file, such as the date of manufacture (you can order the letter for US$75 at www.centreofthewest.org). Having a factory letter makes the rifle easier to sell, and usually adds value. Plus, they are impressive-looking documents in their own right.
Although the original finish is mostly gone, this rifle doesn't appear to be abused or neglected, and there doesn't seem to be appreciable rust or pitting. Rather, it just looks like it's been well used. And since it belonged to your grandfather, I can see why you would want to keep it as a family heirloom—I know I certainly would. Assuming the rifle has been checked by a gunsmith and found to be in safe, serviceable condition, I'd even make a point of taking it out deer hunting once in a while.
If you do decide to sell the rifle, I recommend you go through a well-publicized firearms auction (see www.outdoorcanada.ca/gunauctions). Bidders will most likely want more photos or a hands-on examination, but based on what I can see, I'd expect it to sell for between $800 and $1,200. I know this is not very precise, but gun appraisals are by no means an exact science.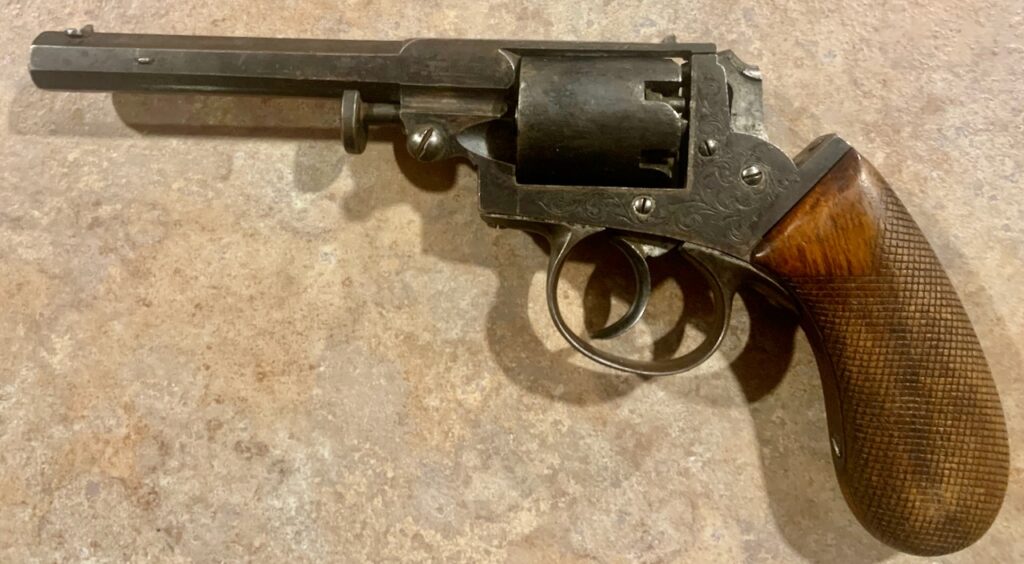 I inherited this old revolver (above) from my uncle a few years ago. I tried to research it myself, but other than the decorative stamp and the markings "C. Langer in Glogau," there are no other clues. I hope you can help
DEVIN GARDNER
SALMON ARM, B.C.
I'm afraid I can't tell you much about this interesting old revolver. Glogau is a town in the Silesia region of Poland, and I can only assume C. Langer was a gunmaker there. I cannot find any reference to the name, however. The gun looks like a copy of a British percussion revolver from around 1860, with a strong resemblance to the Adams design. It may be the gunmaker took inspiration from that particular design, which was well respected in Britain. For their era, these were quite effective designs, and the guns were sometimes purchased by military officers for personal defence. I'm sorry I can't be of more help.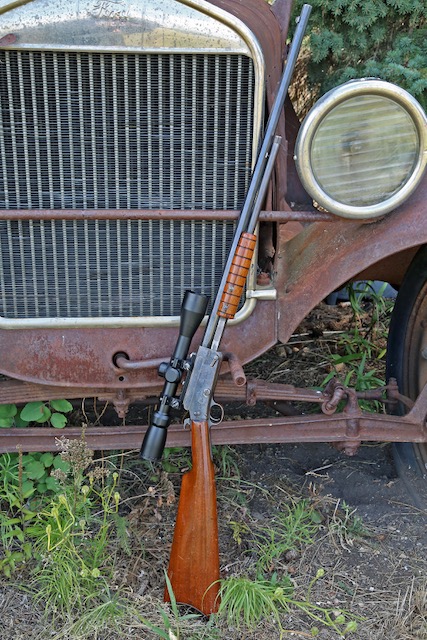 COLLECTOR'S CORNER
The Marlin 27S slide, or pump, action rifle is an improved version of the original Model 27, which was made from 1910 to 1911. The 27S has a large button on the lower middle of the receiver that can be pulled back to allow the action to cycle, even with the hammer cocked (as pictured here). It was offered in .25 Rimfire, .32-20 Winchester and .25-20 Winchester, with either a round or octagonal barrel. Except for the war years, the 27S was made from 1913 to 1932.
The rifle shown here, in .25-20, belongs to a friend who shoots it regularly, as do his grandkids. It is very well made, smooth, reliable and quite accurate. My friend says the youngsters love the rifle because it kicks little more than a .22, and it's easy to hit the target at 100 yards. The factory Winchester load uses an 86-grain bullet, delivered at 1,460 fps.
Collectors are no doubt horrified at the thought of this rifle being drilled and tapped for a scope. Happily, that is not the case. Up to about 1916, the 27S was factory drilled and tapped for a special receiver sight made by Hepburn. The owner of this rifle adapted a sight rail to fit the factory holes, and carefully stored the plug screws and original rear sight. That way, the rifle can be restored to its original condition in minutes.
In near-new condition, these rifles can easily sell for $1,600 to $2,000 at a firearms auction. This particular example has a good deal of original finish, but with some wear on the receiver and barrel; the stock may have been refinished, as well. In this condition, with the original receiver sight put back in place, this rifle would probably sell for $650 to $900 at an auction.
Source
The latest fascinating firearms appraisals and stories from Outdoor Canada's gun guy • Outdoor Canada is written by Dave Anderson for www.outdoorcanada.ca